Sherif's compendium of good coffee shops ☕️
Seattle
Ada's Technical Books and Cafe
425 15th Ave E, Seattle, WA 98112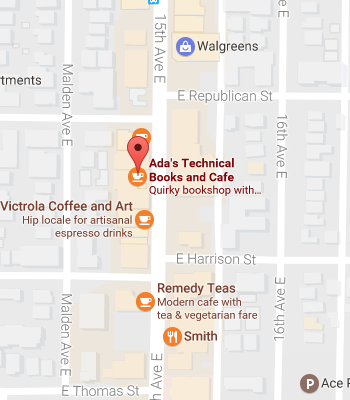 It's a cafe, a bookstore, the books are about technical nerdery, and it's named after Ada Lovelace.
The book selection is great. As soon as I walked in I spotted this book on astrophotography which is something I've been trying to get good at, and I picked it up.
Their pour over is what you would expect from a coffee shop that sets high expectations.
Unfortunately, the one issue is that they don't have a ton of seating, which means that the only place to sit when visiting on a Saturday were bar stools facing a wall. It's a popular joint, for good reason.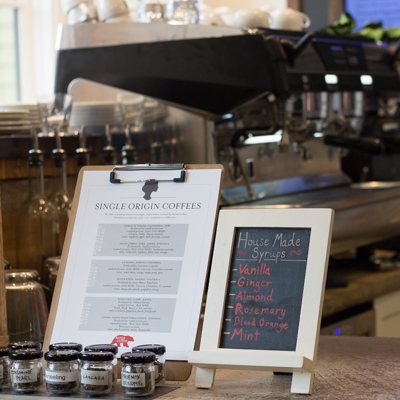 Elliott Bay Book Co. & Elliot Bay Café
1521 10th Ave, Seattle, WA 98122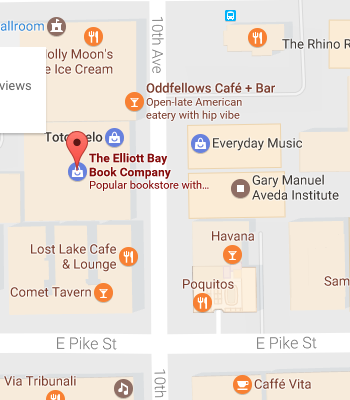 You're gonna say, "Sherif, the photo just shows books. This is a coffee shop page." And I'm gonna say, "dude, there is a coffee shop to the left of the frame of the photo which was taken on the second floor of this unbelievable place, and because the place is so huge, I couldn't show you as many of the books as I wanted to and also include the coffee shop."
I am happy to report that they make a really good mocha here, but also that it's a popular place with limited seating.
Oh yeah, as if I needed more reasons to fall in love with this corner of the city, right across the street lives Everyday Music, the largest used vinyl and CDs store I have ever been in. They had a live band playing in a corner of the place, and when it got sunny outside, they opened the garage door facing the street, letting sunlight in and music out.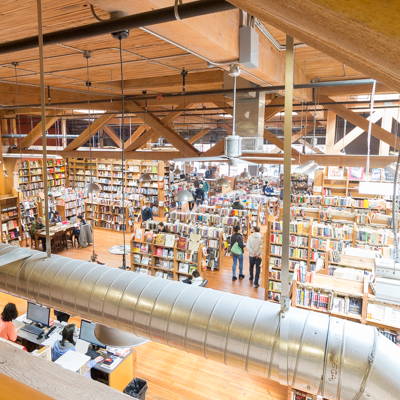 Caffé Zingaro
127 Mercer St, Seattle, WA 98109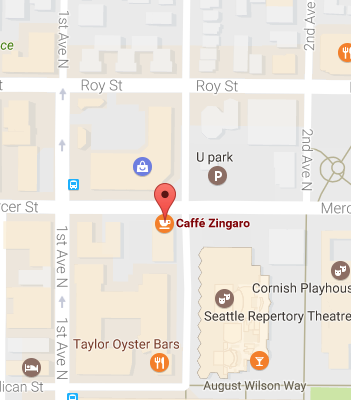 Pictured: Great mocha.
Nice view out the window when it's not busy.
The two baristas have a thing for each other and it's painfully obvious and they need to do something about it already.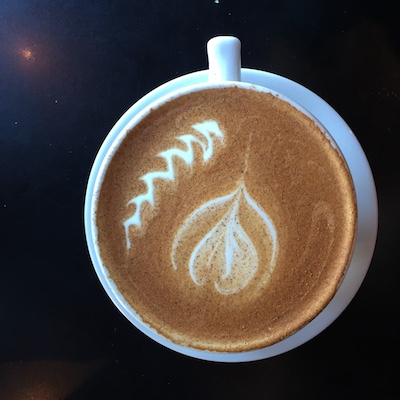 Herkimer Coffee
901 Dexter Ave N, Seattle, WA 98109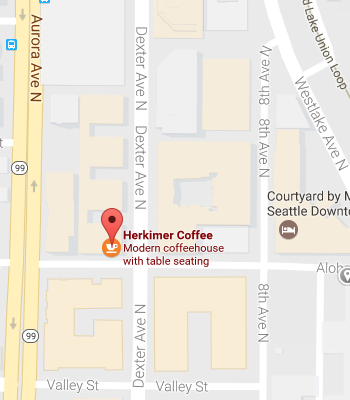 Nice small place with a good amount of seating. Bonus points for a nice seating area upstairs.
Great taste in music.
Really good drip coffee. Mocha's not bad either. Not too sweet.
They have a great selection of whole beans.
Nice place to read a book.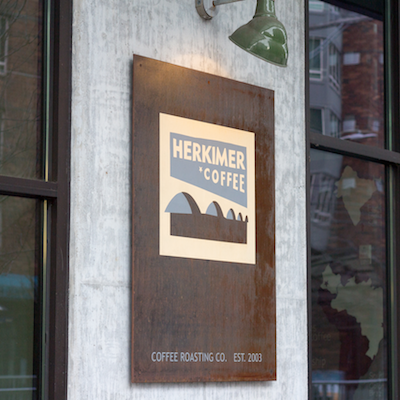 La Marzocco Cafe
472, 1st Ave N, Seattle, WA 98109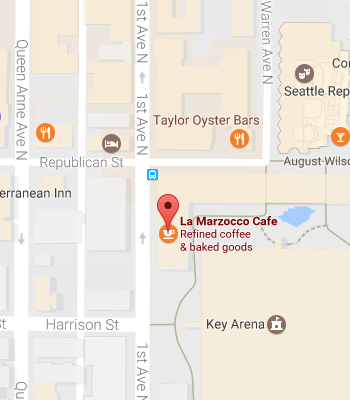 This place has it all. It has a coffee shop, a radio station (KEXP), a record store, an espresso machine show room, great music, and tons of different places to sit.
Tied with Roy St Coffee & Tea for the best mocha I've had in Seattle.
Great place to write code.
Not a great place to read a book.
That it's not a great place to read a book shouldn't be held against it. It's not for the same reason it's a great place to write code. Good loud music and lots of people moving around.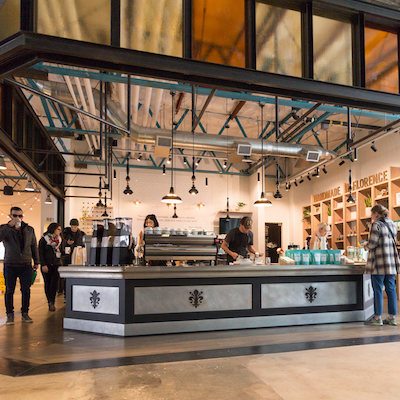 Roy Street Coffee & Tea
700 Broadway E, Seattle, WA 98102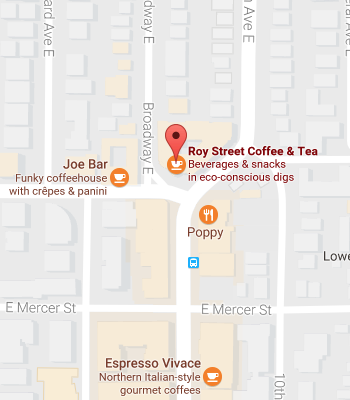 The best mocha I've had in Seattle. Knocked it out of the park.
The best chai tea latte too. Damn these people are caffeine scientists.
The warmest interior I've seen in a coffee shop.
Lots of people comfortably getting work done.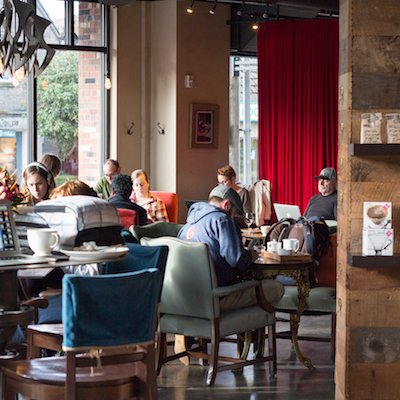 Seattle Coffee Works
107 Pike St, Seattle, WA 98101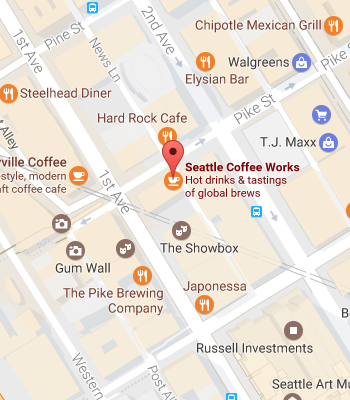 Pro: Very close to Pike Place Market.
Con: Very close to Pike Place Market.
As in, it's packed.
At least on a Saturday, this place is not fit for writing code, reading a book, or meeting a friend.
It is however fit for grabbing a really good coffee to go. They have the Starbucks reserve roasts there, and while they're pricey, they are delicious.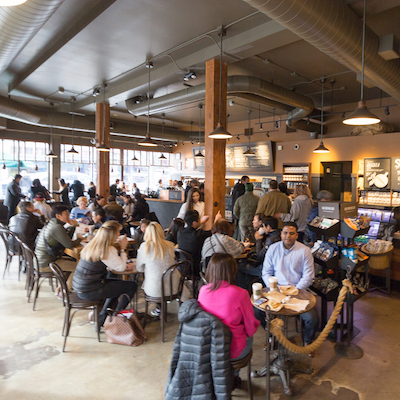 Uptown Espresso
500 Westlake Ave N, Seattle, WA 98109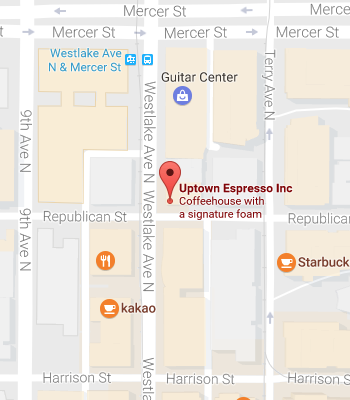 Nice and very spacious interior.
Lots of armchairs and comfortable seating.
Very likely great to get some work done.
A great place to read a book.
I got the mocha generra, which is a mocha with an orange peel. It tasted okay, but was a bit too cold and could have tasted more like it had coffee in it.
Pictured: a pole with a lot of foreign currency. Bonus points for worldliness.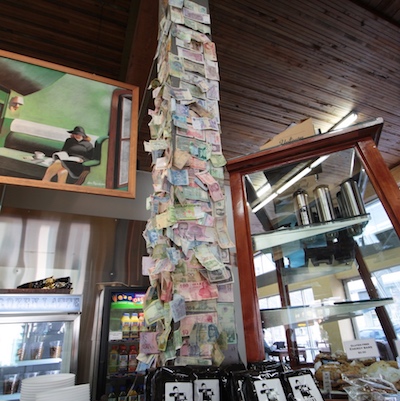 Victrola Coffee Roasters
310 E Pike St, Seattle, WA 98122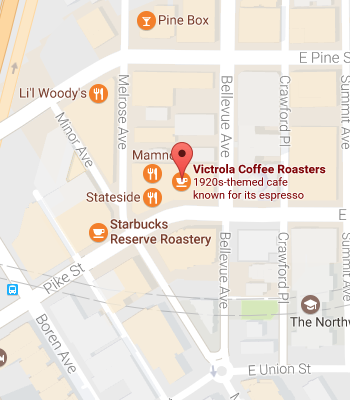 Pictured: a great coffee flight/sampler. Espresso, drip coffee, and espresso with milk.
This is a nice happy place. I get the feeling they adore making coffee. They got really excited when I ordered the flight.
Nice place to read a book.
Nice place to see fun dogs (or maybe I just got lucky).
Being on what I consider to be the outskirts of Capitol Hill, there are a lot of interesting people and places to see nearby.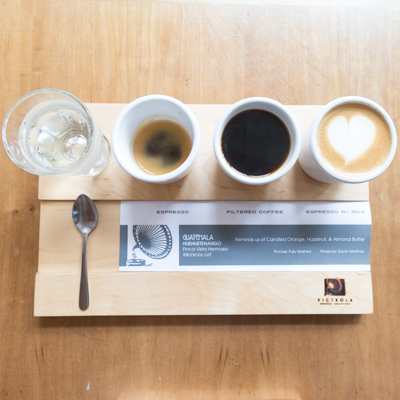 Zeitgeist Kunst & Kaffee
171 S Jackson St, Seattle, WA WA 98101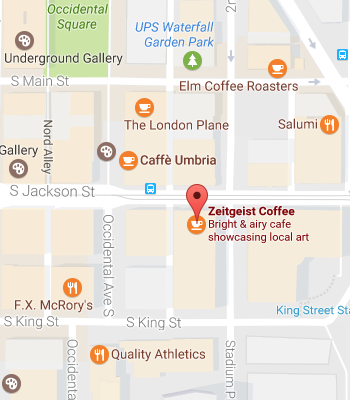 Warm, relaxed interior with high ceilings and lots of seating.
The drinks are decent. The choice of 'decent' instead of 'great' is more about personal preference than objective quality. Café au lait could have been a bit more café.
One of my favorite details about this place: If you forget to bring reading material, they have some for you. A significant rack of newspapers, magazines, and books.
Good place to get work done or read a book (a must for a good coffee shop). Better when it's less busy, but good even in the later Sunday afternoon.